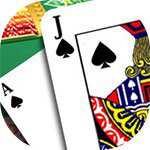 Available for
Play 3D Blackjack
Blackjack is an old game which can be dated to the sixteenth-century Spanish game called 'trente-un'. It became popularized during the 1800s in United State & was named Blackjack since then. This most popular & widely played Casino game is available in 3D. It is easily available to play online. One of the world's most exciting casino game which has nothing to do with cards being black. Take up your seat & try your hands against the other dealers.
You don't have to be pro to set your hand against the dealer.
Available in high-resolution 3D graphics
Features existing game rules.
Practice your skills & take a bet.
Trick:
Use the insurance feature, split hand and double bet with this version of Blackjack set up with the all-new rules. Free-to-play, so try setting your hands to try it out now!
Screenshots