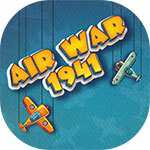 Available for
Play Air War 1941
The game has unlimited levels and can be played for as long as you wish! The game is rather simple yet intriguing. You are here as a pilot to a fighter plane. As a fighter pilot, you take part in the battle with the mission to kill the enemy. You do not need a pilot's license to play this game. The mission of fighting through the air in the battle makes you set on an adventure to beat your defeat while you conquer your enemies. Are you brave enough to defeat your enemies & survive the tale?
All the skill you need is using the arrow keys
Save yourself by collecting fuel for your aircraft
Collect hearts to increase your energy level
Do not forget to collect the coins!
Trick:
Use the left & right arrow keys to dodge the bullet fired by your enemies! Try it now!
Screenshots